RealAutoTips

. - Everybody very interest when their car or motorcycle is economical fuel. It is also when they take driving car with fuel economically. Beside it will to make more cost-effective, way of driving is often called eco driving even more environmentally friendly.
Starting from the preparation out of the house as far as the destination has to consider ways to reduce the consumption of fuel. In here we will give you Tips and Tricks to Press Car Fuel Consumption when driving that we get from Detikoto (Friday, 02/06/2015).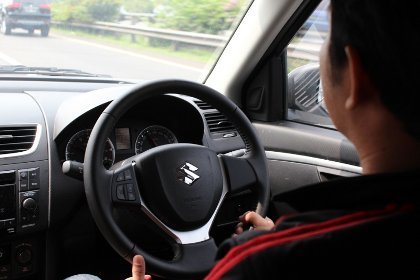 Illustration
A. Car heats Never too Long
Save fuel begins from the habits of the car heats. For cars that are already technologically injection, it is advisable to heat the car is not too long. We do not need long to heat. One minute was able road in cars injection now. If now the already advanced, so basically do not stay long.
B. Acceleration
Accelerate gently press the gas pedal. If you still want to pursue high speed, make sure the position of the acceleration is at a high level.
C. Substitution Position Acceleration
Driving in eco driving, change of position suggested acceleration at low RPM. For diesel engines with higher torque, at 1000-2000 RPM acceleration can be directly improved. While the petrol engine in the range of 2,000-3,000 RPM was able to change gear.
D. Speed and Distance Keep Safe
It also affects fuel efficiency is a way of braking. Reduce speed by means of braking suddenly will make the engine more fuel drink.
Perform smooth braking. For that reason, keep the foresight to not do the brakes suddenly.
Furthermore, always keep pace. Speed of the expected not too high. Thus, the technique is keeping pace by following the flow of traffic conditions.
Determining the safety distance is also a factor. In theory driving safety, safety distance is determined approximately 3 seconds. If it is not considered a safe distance and suddenly there is an object in front of the block, the car certainly will brake suddenly and drank a lot of fuel.
E. Take advantage of the momentum curve, Rise and derivatives
Utilizing the field can also be used to save fuel. When facing a bend, do tricks with just removing the gas. when a gas release would still have power left to push the car. If you want to increase the speed, do after a car body is completely passed through the bend.
In the field incline, decline acceleration must be done at the right time. Perform square off right. While in derivatives, not too much wear on the brakes. It is recommended that the speed reduction techniques perform engine brake.
Read Also :
Thank you for your coming here in www.realautotips.com site, we hope the article above will help you to know more about your automotive information like tips and trick, auto news, modification, auto repair software, etc. Please comment here when you want to share and other. Thank you.